Top 5 NFT-In some ways, NFTs are similar to Bitcoins and other cryptocurrencies, except, of course, they are non-fungible and non-divisible. The first NFTs were part of the Ethereum blockchain, which stores extra electronic information to distinguish their uniqueness. Other blockchains now also facilitate NTFs. Because of the differing blockchain technology behind particular NFTs, not all NFT marketplaces buy and sell all types of NFT. Creators will often select an NFT marketplace based on whether that marketplace supports a specific NFC token standard. Ethereum has released two standards now: ERC-721 and ERC-1155. Competitor, Binance, has since released standards BEP-721 and BEP-1155. The two "1155" standards differ from the original "721" standards because they allow multiple NFTs to be bunched and transacted together.
OpenSea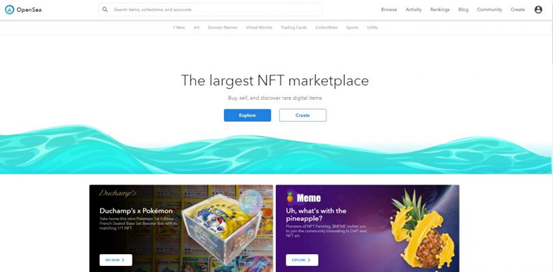 OpenSea boldly describes itself as being the largest NFT marketplace. It offers a wide range of non-fungible tokens, including art, censorship-resistant domain names, virtual worlds, trading cards, sports, and collectibles. It includes ERC721 and ERC1155 assets. You can buy, sell, and discover exclusive digital assets like Axies, ENS names, CryptoKitties, Decentraland, and more. They feature over 700 different projects, including trading card games, collectible games to digital art projects, and name systems like ENS (Ethereum Name Service).
Rarible is a community-owned NFT marketplace, with its "owners" holding the ERC-20 RARI token. Rarible awards the RARI token to active users on the platform, who buy or sell on the NFT marketplace. It distributes 75,000 RARI every week.
The platform places a particular focus on art assets. Creators can use Rarible to "mint" new NFTs to sell their creations, whether they be books, music albums, digital art, or movies. The creator can even show a sneak peek of their creation to everybody who comes to Rarible but limit the full project to the purchaser.
SuperRare has a strong focus on being a marketplace for people to buy and sell unique, single-edition digital artworks. Each artwork is authentically created by an artist in the network and tokenized as a crypto-collectible digital item that you can own and trade. They describe themselves as being like Instagram meets Christie's, offering a new way to interact with art, culture, and collecting on the internet.
Each artwork on SuperRare is a digital collectible– a digital object secured by cryptography and tracked on the blockchain. SuperRare has built a social network on top of the marketplace. As digital collectibles have a transparent record of ownership, they're perfect for a social environment.
All transactions are made using ether, the native cryptocurrency to the Ethereum network.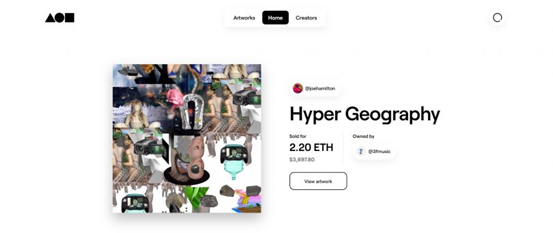 Foundation is a specialist platform designed to bring digital creators, crypto natives, and collectors together to move culture forward. It calls itself the new creative economy. Its primary focus is on digital art.
In the first blog post on their website in August 2020, they announced an open call for creators to experiment with crypto and play with the concept of value. They invited creators to "hack, subvert, and manipulate the value of creative work."
Whenever an NFT trades on Foundation, the artist makes 10% on that secondary transaction, i.e., an artist receives 10% of the sales value any time a collector re-sells their work to someone else for a higher price.
5. AtomicMarket
AtomicMarket is a shared liquidity NFT market smart contract that is used by multiple websites. Shared liquidity means that everything listed on one market also shows on all other markets.
It is a marketplace for Atomic Assets, a standard for non-fungible tokens on the eosio blockchain technology. Anyone can utilize the Atomic Asset standard to tokenize and create digital assets and buy, sell and auction assets using the Atomic Assets marketplace.
You can list your own NFTs for sale on the AtomicMarket, and you can browse existing listings. NFTs of well-known collections get a verification checkmark, which makes it easier to spot the real NFTs. Malicious collections are blacklisted.
U.TOWN:https://u.town/en