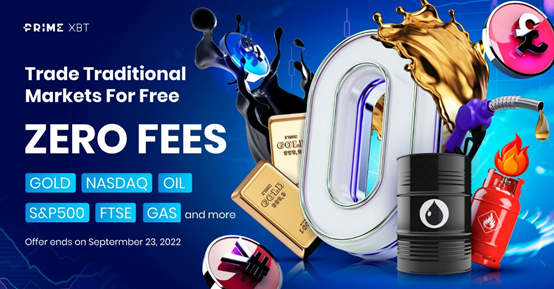 In a crypto economic context that is uncertain, to say the least, all good news is welcome! Here are some concerning PrimeXBT, and not the least of which, since the famous exchange has decided to remove all fees on traditional market trading from 12th to 23rd September 2022, allowing all its users to enjoy trading commodities, stock indices and Forex without having to pay any fees at all.
1
It will have escaped no one's attention that we are currently in a prolonged crypto winter, the end of which no one can predict precisely. It, therefore, seems logical and even prudent to play the portfolio diversification card. PrimeXBT's offer of a total freeze on traditional market trading fees is therefore timely in this crisis context. "Don't put all your eggs in one basket" is a popular saying that has taken on its full meaning.
2
It is apparent that many traders tend to focus on the cryptocurrency market, sometimes neglecting the traditional markets. However, the latter may be essential for creating a profitable portfolio. One of the arguments in favour of trading in multiple markets (crypto and traditional) is the fact that you can diversify the overall risks. The last few years have shown us that most cryptocurrencies move mostly in the same direction. When the Bitcoin price is down, all markets are down. When the market is bullish, Bitcoin and the major altcoins are also bullish. By trading other assets like stock indices, Forex, and commodities, you will encounter new opportunities and many more chances to profit from the market.
PrimeXBT-3
Very often, it is necessary to switch between platforms to trade in different markets. This is not the case here, as you can do everything within the PrimeXBT site. This saves time and is much more convenient for traders.
PrimeXBT is one of the few platforms that offers the possibility to trade on different markets such as metals (gold, silver), stock indices, Forex, oil, and the SP500 stock index. It is also worth noting that it is possible to use leverage on PrimeXBT without having to sell your favourite cryptos to access a wide range of trading assets. You can use not just Bitcoin, Ether, USDC, and USDT but also other cryptocurrencies as margin collateral to operate on several markets.
If you are unfamiliar with commodity trading and Forex, this is the perfect opportunity to get started! If you're looking to try it one day, you might as well try on a site that completely eliminates trading fees. And if you're a beginner, we encourage you to check out the PrimeXBT Trading Academy. Read more in this article.
U.TOWN:https://u.town/en