blockchain-In the traditional gaming space, guilds have served as informal communities to support players, and GameFi guilds have been instrumental in the development of the GameFi realm as they help lower the barrier to entry for newcomers and create new opportunities for investors. The potential of GameFi guilds is endless.

blockchain-Esports and gameplay monetization
The development of streaming and esports has added a new dimension to these guilds – monetization. With the advent in 2011 of Twitch, the popular live streaming platform for gamers, gamers have the opportunity to stream their gameplay online and generate income at the same time.
In addition, at a competitive level, monetized esports became popular in the 2010s with the release of massively multiplayer online fighting games (MOBAs) such as League of Legends (LoL) and Defense of the Ancients 2 (DOTA2). Many of these early gaming opportunities came from competitive video games in online or offline tournaments, which often offered cash prizes. Live streaming has added legitimacy to these competitions, which have attracted sponsors, ad revenue and new ways to make money.
blockchain-Play2Earn games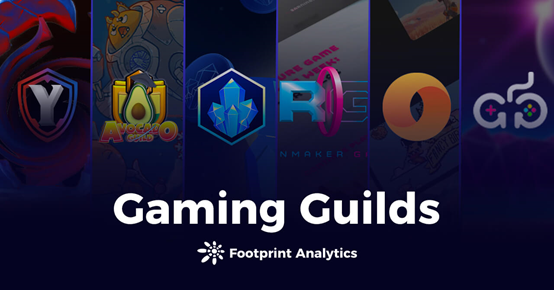 Play2Earn games have provided players with an even easier and more affordable way to make money through gameplay. New gaming communities have formed around Play2Earn games as players begin to pool knowledge and resources. As more players joined the industry and the prices of gaming assets continued to rise, new players had to spend quite large sums just to start playing. This led to the emergence of the first Play2Earn guilds, where players united in order to help each other, as well as to maximize their own income.
Play2Earn games give players the opportunity to earn cryptocurrency as well as own elements of the game itself through the use of non-fungible tokens (NFT), which usually take the form of in-game characters, lands, items, etc.
What problems do GameFi guilds solve?
Many Play2Earn games require an NFT purchase. As the popularity of these games grows, so does the cost of the required NFTs. In the early days of Axie Infinity, they could be purchased for a small fee, but due to the popularity of Axie Infinity, new players now have to shell out nearly $ 300 for just a few starting Axies.
This is exactly the problem GameFi guilds are trying to solve. Guilds bring together investors and players for the benefit of both. Investors wishing to make money on Play2Earn games can purchase NFT and other in-game assets. If NFT owners do not have the time or desire to play, or they simply no longer need a certain set of assets, they can provide these NFTs to players through guilds.
However, this does not mean that fellows do not pay for renting NFTs from guilds.Players usually have to pay a certain percentage of their future income to the guild in exchange for these NFTs. In addition, certain games allow players to "pump" their NFTs as they play, thereby increasing the potential profit from these assets. This creates a double benefit for guilds that generate income while increasing their portfolio of more powerful assets through NFT leases.
U.TOWN:https://u.town/en