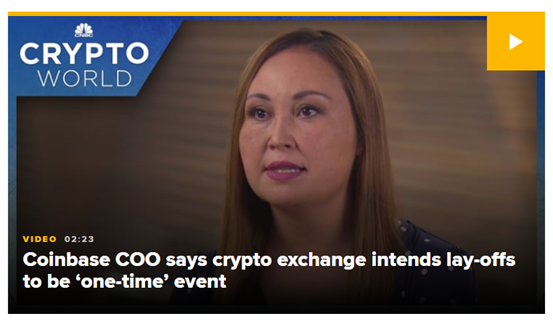 Coinbase is laying off
Coinbase has roughly 5,000 full-time workers, translating to a head count reduction of around 1,100 people.Shares of Coinbase closed down .83%.
CEO Brian Armstrong pointed to
a possible recession, and a need to manage Coinbase's burn rate and increase efficiency. He also said the company grew "too quickly" during a bull market."We appear to be entering a recession after a 10+ year economic boom. A recession could lead to another crypto winter, and could last for an extended period," Armstrong said in the email, adding that past crypto winters have resulted in a significant decline in trading activity. "While it's hard to predict the economy or the markets, we always plan for the worst so we can operate the business through any environment."
Coinbase had initially said it was pausing hiring
Two weeks later, the crypto giant announced that it was extending the freeze for the "foreseeable future." Earlier this year, Coinbase said it planned to add 2,000 jobs across product, engineering and design."Our employee costs are too high to effectively manage this uncertain market," Armstrong said. "While we tried our best to get this just right, in this case it is now clear to me that we over-hired."
The news comes during a deep rout for Coinbase shares
The stock went public via a direct listing last April during a boom in crypto markets and investors clamoring for high-growth tech stocks. Coinbase's shares are down 79% this year and 85% from the all-time high. Meanwhile, bitcoin has dropped to near $22,000 and has lost 53% of its value this year.
San Francisco-based Coinbase reported
a slump in users in its last quarter and a 27% decline in revenue from a year ago. The company gets the majority of its top line from transaction fees, which are closely tied to trading activity.President and Chief Operating Officer Emilie Choi called it a "very difficult decision for Coinbase" but given the economic backdrop, she said it "felt like the most prudent thing to do right now."Affected employees received a notification from human resources. If so, the memo was sent to a personal email as Coinbase cut off access to the company systems. Armstrong called it the "only practical choice" given the number of employees with access to customer information, and a way to "ensure not even a single person made a rash decision that harmed the business or themselves."
Coinbase employees will have access to a talent hub to find new jobs in the industry
including Coinbase Ventures' portfolio companies. Choi said Coinbase would still be "doubling down" on areas like security and compliance and may be "reorienting" employees to near-term revenue drivers."If there are any cuts to new product areas, it's going to be more around experimental venture areas that we're still very bullish on, but that we don't want to invest in in this part of the cycle," Choi told CNBC in an interview at the company's headquarters."We will continue to invest in incredible innovative areas of crypto that we think are emerging over the longer term, but we're probably going to do those in a more measured way in this type of an environment."
and we have a number of mechanisms in place for them to do so
"We will always encourage our employees to share feedback internally on how we operate as a company. It's very much unclear if this document came from within the company," Choi said. "However, if it did, we're disappointed that those behind it felt the need to breach the trust of the company and their co-workes by sharing this information in a way clearly designed to drive controversy rather than a meaningful dialogue." Coinbase has no plans to offer additional company equity grants, or cash compensation amid the price drop, Choi said. The company offers annual grants, partially so employees could "mitigate the swings" and volatility in crypto. For employees and investors, the COO likened it to Amazon or Tesla: a long-term investment with volatility in the meantime.
"We think that anyone who makes an investment
whether they're an employee or investor, will have a handsome return over the longer term," Choi said. "Coinbase is a long-term play — we have very deep conviction in the long-term value of the stock.